Rutherford Humanities, Social Sciences, & Education Library
---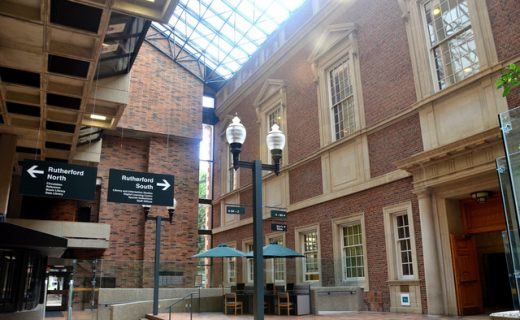 The Rutherford Humanities, Social Sciences, & Education Library is the largest library on campus and the second largest research library in Canada. Our collections and services support study, teaching, and research in the Faculties of Arts, Education, and Native Studies, and related disciplines. The library is zoned for three levels of noise, silent, quiet and collaborative.
Rutherford North's five floors include Humanities & Social Sciences, Education, and Music collections, computing & study spaces, and the Interlibrary Loans Office. In Rutherford South, you will find a study hall, our large reading room and computer labs. The Bruce Peel Special Collections Library is located in the basement of Rutherford South. The two buildings are joined by a sky-lighted galleria.
Do you have questions? Ask Us for help at the service desk on the main floor.
You can also find subject specific information in our subject guides:
Arts Subject Guides
Education Subject Guides
First Nations, Métis, Inuit Subject Guides
Rutherford North
11208 89 Avenue
University of Alberta
Edmonton, Alberta, T6G 2J8
Rutherford South
11204 89 Avenue
University of Alberta
Edmonton, Alberta, T6G 2J4