Cameron Sciences, Engineering, & Business Library
Cameron Hours
July 26th to August 15th only the Main Floor, Basement, and Service Desk are open. During this time, access is restricted to current students, staff and faculty with a valid ONEcard.
---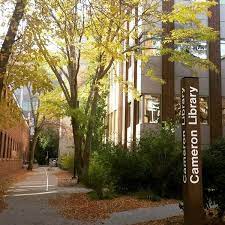 Cameron Library provides collections and services in support of the research and teaching of the Faculty of Engineering, the Faculty of Science, the Faculty of Agricultural, Life and Environmental Sciences, and the Alberta School of Business. Collections include the William C. Wonders Map Collection, and the Canadian Circumpolar Collection. Cameron seats 1650 with 400+ computers. It has 18 group study rooms, and a mix of comfortable seating. Cameron is zoned for three levels of noise: silent/no food, quiet, and collaborative. Cameron Library is located near a Starbucks, and is the home of the Digital Scholarship Centre.
Do you have questions? Ask Us for help at the service desk on the main floor.
You can also find subject specific information in our subject guides:
Science Subject Guides
Engineering Subject Guides
ALES Subject Guides
Business Subject Guides
11231 Saskatchewan Drive
University of Alberta
Edmonton, Alberta, T6G 2J8
Cameron Staff