A look back at Science Literacy Week 2016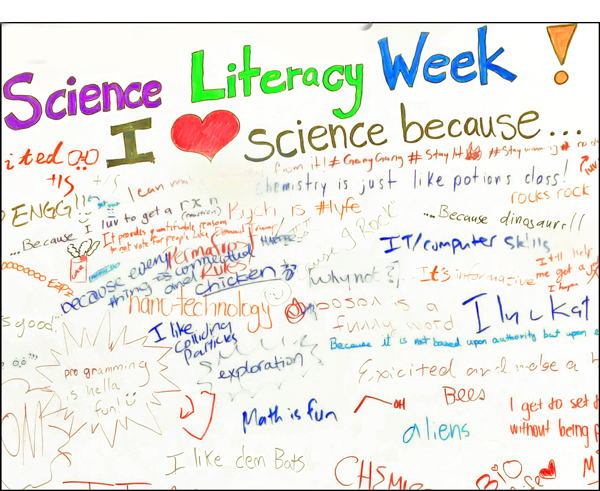 What a Science Literacy Week! Over the course of 19 events (the most of any university in the country!), the entire U of A community showed just how passionately curious they were about all things science. Hundreds of students passed by Clive Coy from the Dino Lab as he excavated part of the vertebral column of a duckbilled dinosaur, and the large audience at Janet Ng's talk about endangered ferruginous hawks got up close and personal with Vinnie the peregrine falcon. Students had the opportunity to hear about each others research and work, with the students from AlbertaSat showcasing their work on the first Alberta-built satellite - we're counting down to launch day! Dr. Braden Barr and Danny Shpeley brought over terrific specimens, with passers by getting up close and personal with beetles, butterflies, anteaters, and pangolins. Technology was also on full display, with great makerspace demos by EdTech and Cameron Library's 3D printer experts!
Thank you to all who came to play with everyday chemistry, and learn about citizen science through gathering data on worms and plants; who toured up to the stars and meteorites, and dove down to the tiniest boson - your curiosity knows no bounds!
Biggest and most sincere thanks to our wonderful presenters! Your passion for your research, and your ability and talent to share with students and staff was amazing! We are all more science-smart because of you!
I have no special talents. I am only passionately curious. - Albert Einstein, 11 March 1952

Science Literacy Week is a national week-long celebration of science in Canada. From September 19 to 23, 2016, University of Alberta Libraries will host a number of presentations, demos, and displays showcasing the diverse scientific research conducted by staff and students all across the University of Alberta. From paleontology and particle physics, to citizen scientists and satellites, the breadth of knowledge and research is amazing! Science Literacy Week gives students and staff the opportunity to get up close and personal with scientific research and learn what goes on behind lab room doors from those who are passionately curiously about their research and work.

So put on your lab coat, find your best beaker, and check out the schedule for a complete list of events. Everyone is welcome!
Schedule
Mon 19 Sept 2016
Making Science Fun:
Science Magic Show
Shakib Rahman


(Dept of Chemistry)

Shakib Rahman will delve into the wonders of science and unravel some of the mysteries of chemistry. His show will cover density, surface tension, absorbent materials and more. Public activities are also incorporated into the show.
Cameron Library,
Main Floor
12:00-1:00
Mon 19 Sept 2016
NanoFab Cleanroom Tour
Jocelyn Bachman


(NanoFab)

See where nanoscience happens in the cleanest lab on campus, and learn about the basics of how nanotechnology is made!

Tours leave from Library Service Desk at


1:30 & 2:30
Mon 19 Sept 2016
Really Big Bird Houses: Mitigation and management for endangered Ferruginous Hawks
Janet Ng


(Dept of Biological Sciences)

A summary of current research on Ferruginous Hawk ecology and how it can be used to inform conservation and management of this species at risk.
Cameron Library,
Fireside Lounge
2:30-3:30
Mon 19 Sept 2016
Dino Lab
Clive Coy &
Howard Gibbins


(Dept of Biological Sciences)

Learn about U of A's own Jurassic Park, the Dino Lab!
Cameron Library,
Main Entrance

3:00-4:00
Tues 20 Sept 2016
3D Printing Demo
Cameron Library
Learn about this free library service, and how you can use it for your school work!
Cameron Library,
Main Floor
11:00-12:00
Tues 20 Sept 2016
Lift Off Alberta
AlbertaSat
AlbertaSat, a student-run project at the U of A, has built the province's first very first satellite and is laying the groundwork for a provincial space industry.
Cameron Library,
Main Entrance

12:00-3:00
Tues 20 Sept 2016
Bugs Show and Tell
Danny Shpeley


(Dept of Biological Sciences)

Danny will show us beautiful samples from the wonderful E.H. Strickland Entomological Museum collection.
Cameron Library,
Main Floor
1:00-2:00
Tues 20 Sept 2016
Citizen Science
Dr. Jerine Pegg


(Dept of Education)

&
Dr. Elisabeth Beaubien


(Dept of Renewable Resources)

Learn how ordinary Albertans are helping scientists collect data for their research.
Pizza provided by the Libraries!
Cameron Library,
Fireside Lounge
2:30-3:30
Wed 21 Sept 2016
Maker Tools for Education
EdTech


(Dept of Education)

Come and see some of the latest trends in Maker technology for the classroom. Learn more about classroom applicability, or simply just come and play with some toys!

Coutts Education Library


12:00-1:00
Wed 21 Sept 2016
Dinosaurs Fossil Prep for Dummies
Clive Coy


(Dept of Biological Sciences)

See how U of A paleontologists prepare and care for dinosaur fossils!
Cameron Library,
Main Floor
12:00-1:00
Wed 21 Sept 2016
Why Jargon Matters:
Dead Animals and Living Words
Dr. Braden Barr


(Dept of Biological Sciences)

Dr. Barr will introduce a few key concepts in evolutionary biology using Zoology specimens. Emphasis will be placed on the appropriate use of jargon when communicating science.
Cameron Library,
Main Floor
1:30-2:30
Wed 21 Sept 2016
Particle Fever
Dr. Roger Moore &
Dr. James Pinfold


(Dept of Physics)

This 2013 documentary follows the initial round of experiments conducted by the Large Hadron Collider (LHC) at CERN, including the discovery of the Higgs boson. Dr. Moore will moderate questions and Dr. Pinfold will be Skyping in from CERN to give a little inside tour of the Control Room.
Popcorn provided by the Faculty of Science!

CCIS Room 1-430


3:00-5:00
Thur 22 Sept 2016
Lift Off Alberta
AlbertaSat
AlbertaSat, a student-run project at the U of A, has built the province's first very first satellite and is laying the groundwork for a provincial space industry.
Cameron Library,
Main Entrance
12:00-3:00
Thur 22 Sept 2016
Images of Research
Hector Perez


(Dept of AFNS)


Ryan Stanfield


(Dept of Renewable Resources)


Chris Stockdale


(Dept of Renewable Resources)


Yiyu Wang


(Dept of Chemical and Materials Engineering)



Participants in U of A's Images of Research competition speak about how they transformed their research into works of art!
Cameron Library,
Main Floor
1:30-2:30
Thur 22 Sept 2016
Public Lecture: A molecule takes a selfie
Graduate Physics Student Association
Dr. Paul Corkum from the University of Ottawa explains how the principles of three types of waves; light waves, water waves, and electron waves, can be combined to explain how molecules emit the fastest pulses of light (just attoseconds in duration!). Moreover, these pulses of light can be used to freeze-frame the motion of an electron moving in a atom, or even see the undulations of the waves of visible light! Register (for free) at http://gpsa-symposium-2016.eventbrite.ca

CCIS Room 1-430


7:00 - 9:00 PM
Thur 22 Sept 2016
Meteorites from the U of A Observatory
Department of Physics Astronomical Observatory
Come learn about meteorites and observing at the U of A's observatory!
Cameron Library,
Main Floor
2:30-3:30
Fri 23 Sept 2016
Maker Tools for Education
EdTech


(Dept of Education)

Come and see some of the latest trends in Maker technology for the classroom. Learn more about classroom applicability, or simply just come and play with some toys!
Cameron Library,
Main Floor
12:00-1:00
Fri 23 Sept 2016
Dino Lab
Clive Coy &
Howard Gibbins


(Dept of Biological Sciences)

Learn about U of A's own Jurassic Park, the Dino Lab!
Cameron Library,
Main Entrance

1:30-2:30
Fri 23 Sept 2016
3D Printing Demo
Cameron Library
Learn about this free library service, and how you can use it for your school work! Everyone is welcome!
Cameron Library,
Main Floor
1:30-2:30